Activities and Ceremonies
This year's University Ceremony will take place on Tuesday, June 20, 2023, at 9:00 a.m. at Autzen Stadium.
The ceremony celebrates the accomplishments of our graduates and includes administration and student speakers, a keynote address, and the conferral of degrees by school or college. Guest tickets are not required, but graduates must RSVP to let us know they will be attending.
Gra(n)d Entrance
Students will enter Autzen Stadium at the Mo Gate (just west of the South Gate) beginning at 7:30 a.m. and gather at the Moshofsky Plaza.
Graduates will be lined up by commencement staff and volunteers before they enter onto the field through the West Tunnel. This Gra(n)d Entrance will begin at 8:15 a.m.
Please note, in order to participate in the Gra(n)d Entrance, all graduates must wear regalia and be in line by 8:15 a.m. Because of space constraints, guests of graduates will not be allowed to enter the Mo Gate. Students will not be required to line up in a specific order. If students have a preference for who they enter the stadium with and sit next to please plan to line up together.
Guests should make their way into the stadium and can watch on the video board as their graduates enter the field, beginning at 8:15 a.m. 
The University of Oregon hosts school and college ceremonies, sharing the commencement celebrations with more than 5,000 graduates and 30,000 guests in any given year. These ceremonies will occur on Tuesday, June 20, after the conclusion of the main Commencement ceremony at Autzen Stadium.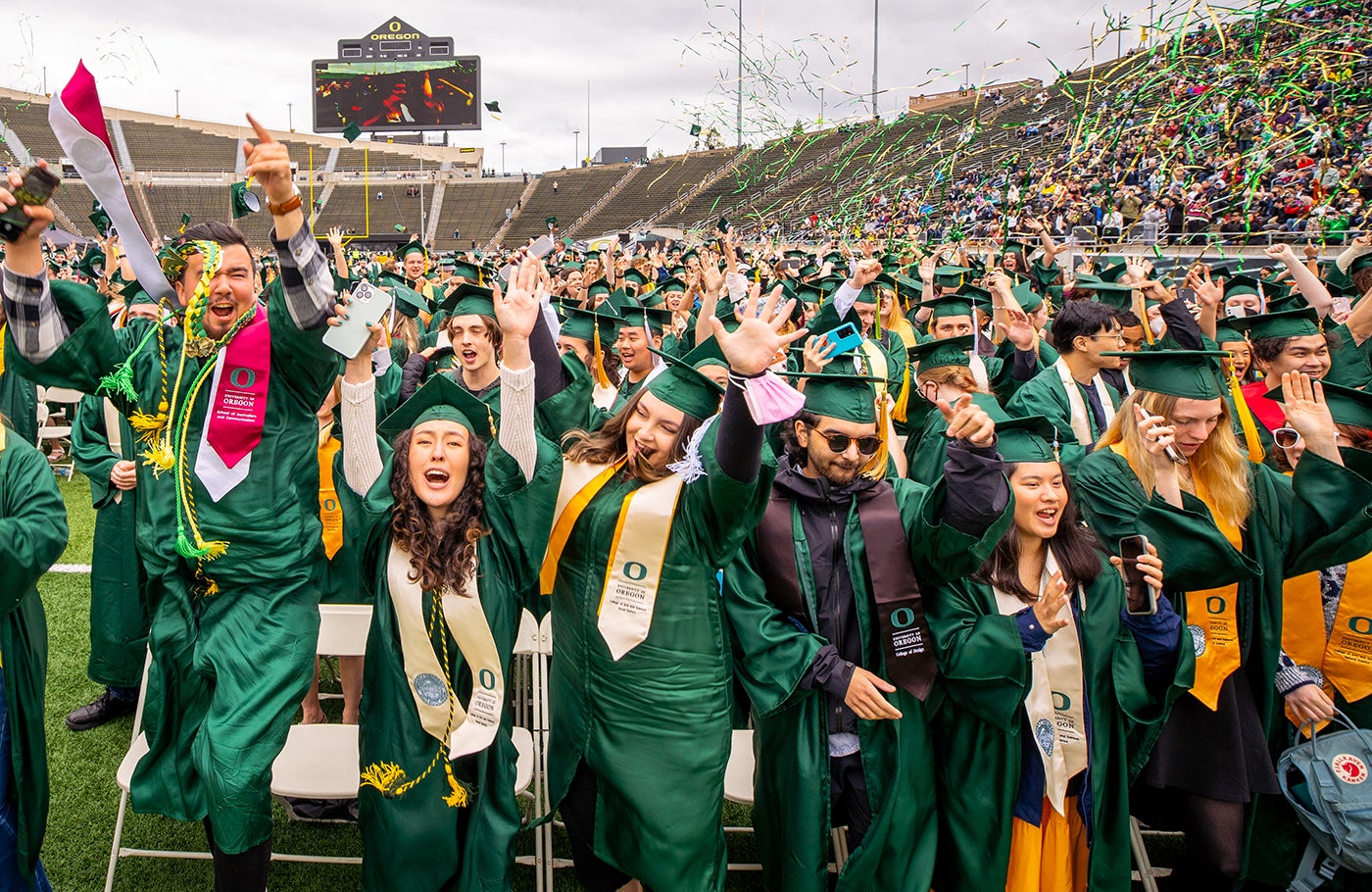 University Ceremony
The University Ceremony celebrates the accomplishments of all of our graduates with a great deal of excitement, student speakers, and a keynote address in preparation for the provost conferring the degrees to the graduating class. Graduates are encouraged to get creative and decorate their grad caps and regalia. Graduates planning to attend the main University Ceremony are asked to RSVP.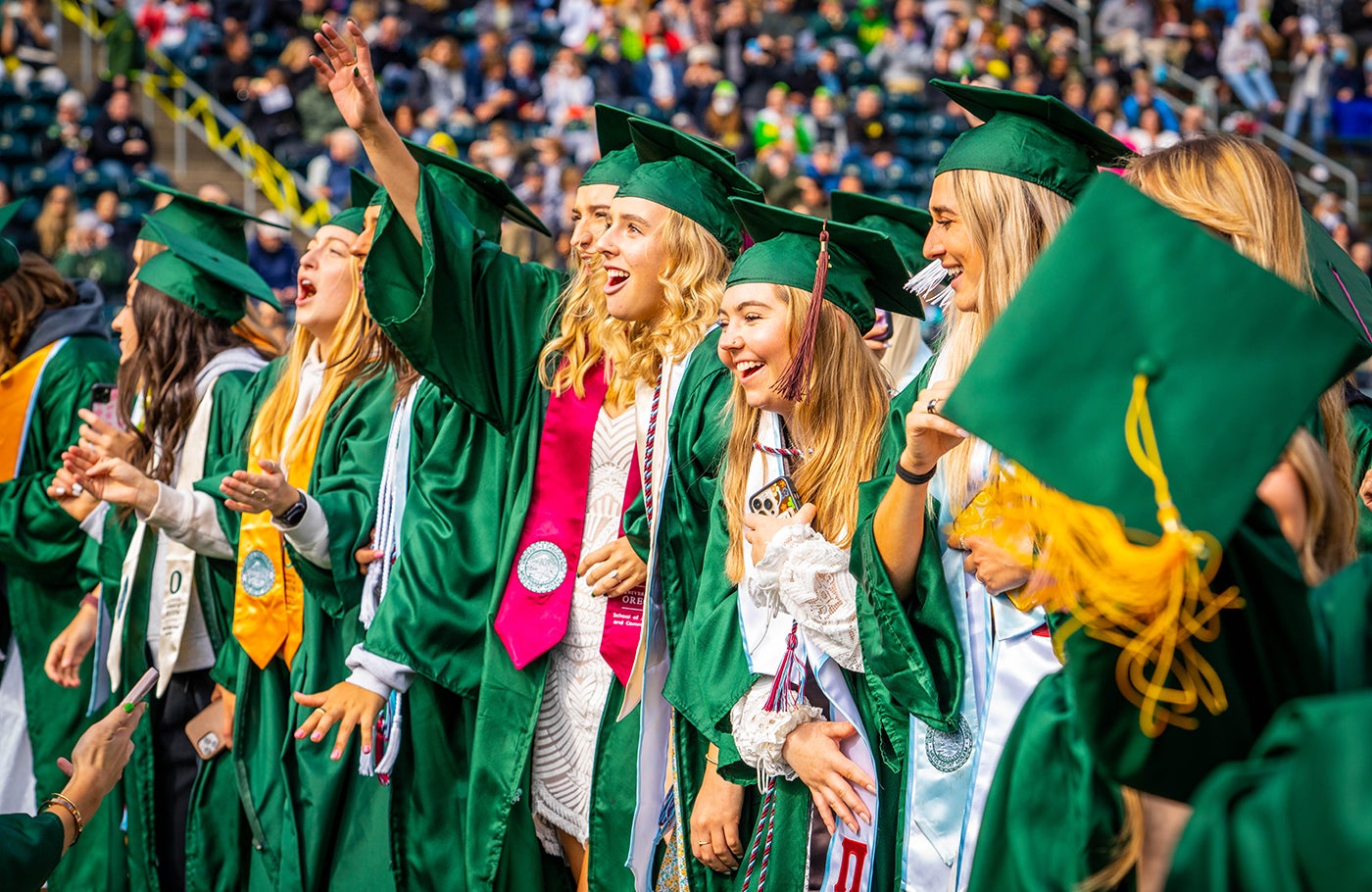 Schools and Colleges
In addition to the main University Commencement Celebration, each school and college will be hosting ceremonies. Department and program faculty are present to recognize the graduates as they receive a diploma cover and "turn their tassel" to mark the transition from student to graduate. These ceremonies typically last around 90 minutes. Each school or college plans its own ceremony. Please contact your department directly if you have any specific questions regarding these ceremonies.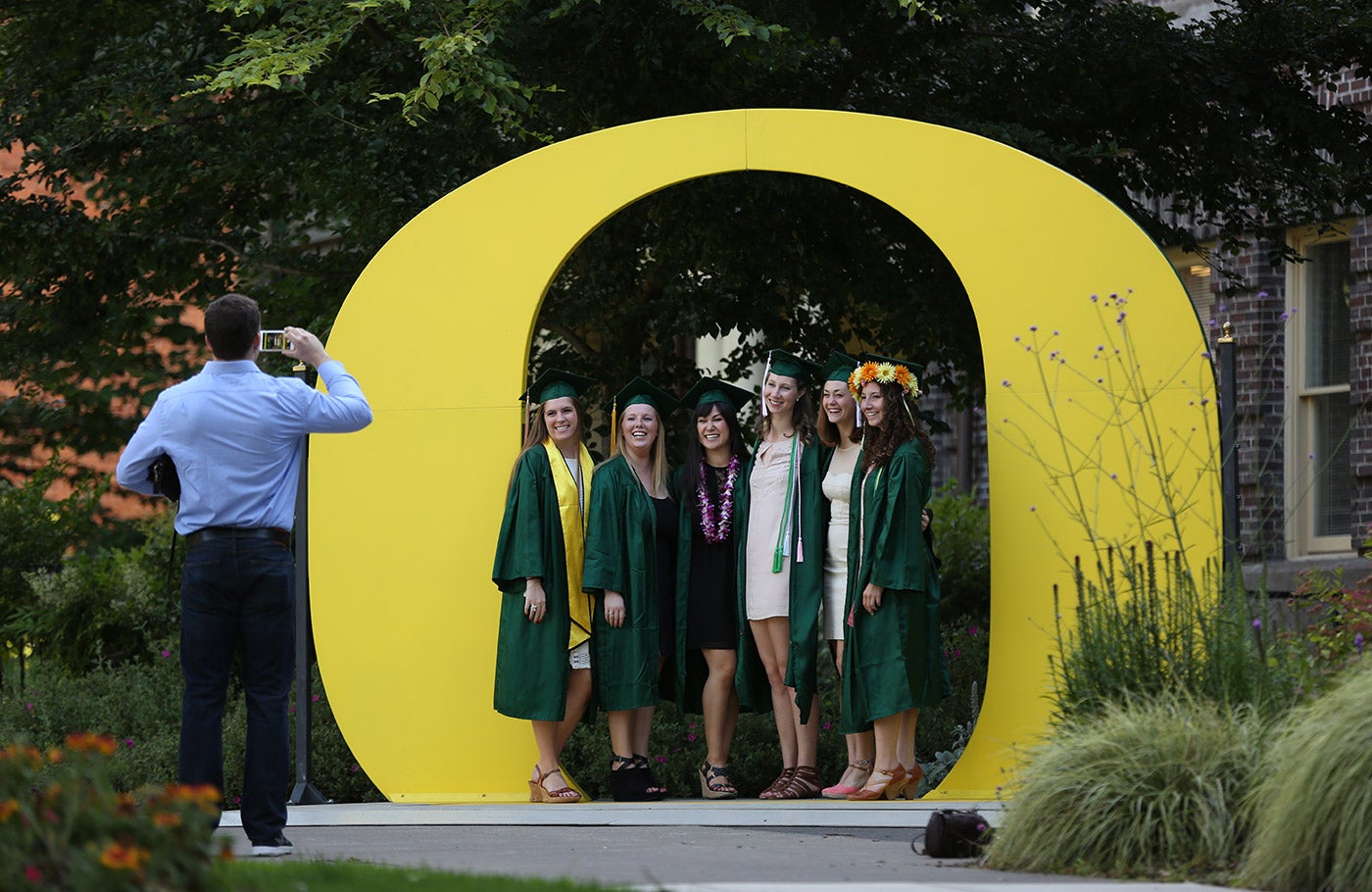 GradFest
In between ceremonies, join the campus community in celebrating commencement at the Erb Memorial Union (EMU). Graduates and their families can head to the EMU Green on Commencement Day to enjoy complimentary snacks and refreshments. GradFest activities will include photo opportunities with the large green and yellow "O" and lawn games. The EMU also includes places to sit and relax and expanded food service venues.
Staff from the University of Oregon Alumni Association will be onsite at the EMU to welcome our graduates and families to campus. Stop by to say hello and learn more about the benefits of becoming a UO alumni member.
All university museums and classroom buildings will also be open for you to enjoy during commencement. Join your graduate in taking a final look at their home as a Duck and enjoy our beautiful campus!